Ad network
(CPC=Cost Per Click)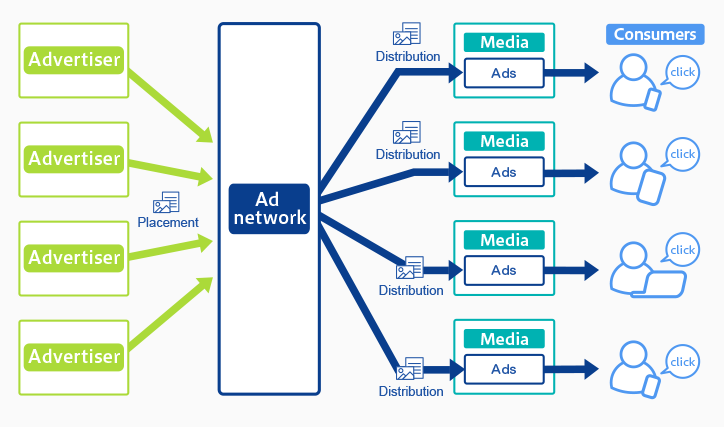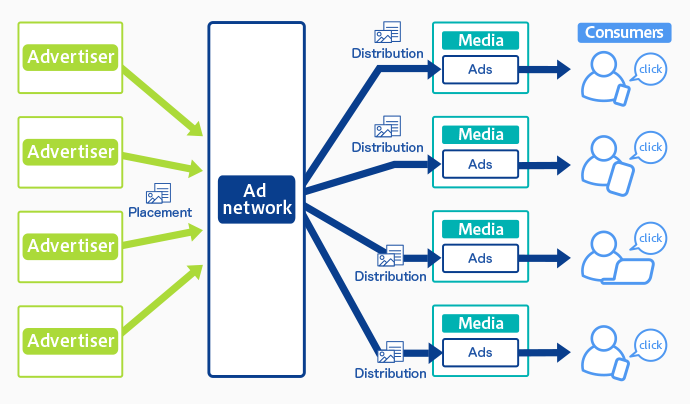 View larger image
"Ad network" refers to a mechanism for gathering multiple media into an advertising distribution network and distributing the advertising through many kinds of media (or refers to the network itself).
Bundling a large number of media makes it possible to secure large-scale traffic overall (i.e., distribution volume).
We operate the smartphone ad network nend, and, for web media and app media aimed at diverse networked mobile devices (Android devices, iPhone, iPad, etc.), distribute mainly CPC advertising in which compensation is paid for referrals to advertisers (i.e., clicks on advertisements).
Advantages for advertisers
Allows distribution of ads in many affiliated media simply by placing an ad (i.e., bidding) in an ad network

Allows distribution of advertising with genre, category and placement media specified in advance

Allows viewing of impressions, CVR (conversion rate), and other data measuring effectiveness in reports
Advantages for media
Allows displaying of ads to earn money without performing sales

Allows automatic distribution of a variety of ads without ad management hassle, simply by pasting an ad tag or embedding an SDK

Allows placement of multiple advertisements within a single ad block, making effective use of frames
nend
Aimed at smartphones and tablets, nend is one of Japan's largest ad networks.

It offers unique features that optimize bidding for each distribution outlet, achieving high advertising effectiveness and maximization of volume. In addition to general banner advertising, nend offers in-feed advertising that makes use of features that enable the matching of ad placement to media.

Users can easily place ads with no initial or monthly costs.
nend official SNS accounts
Behavioral targeting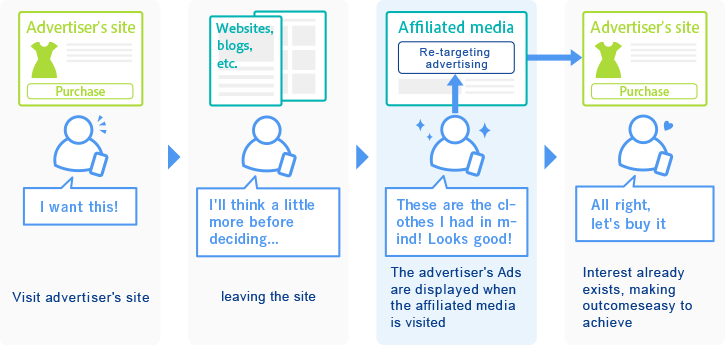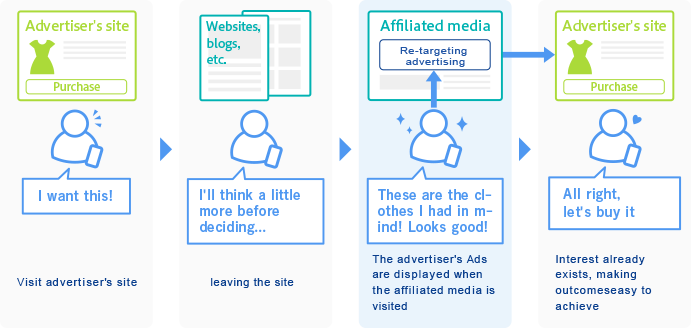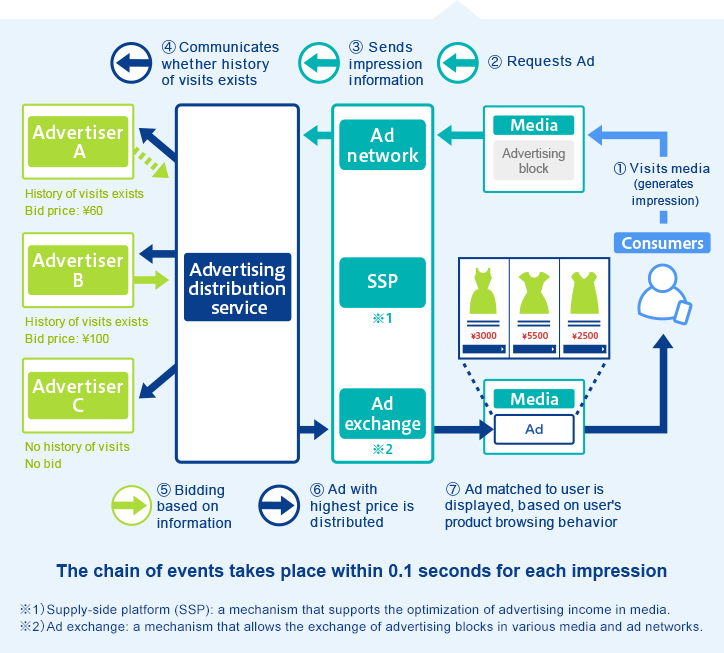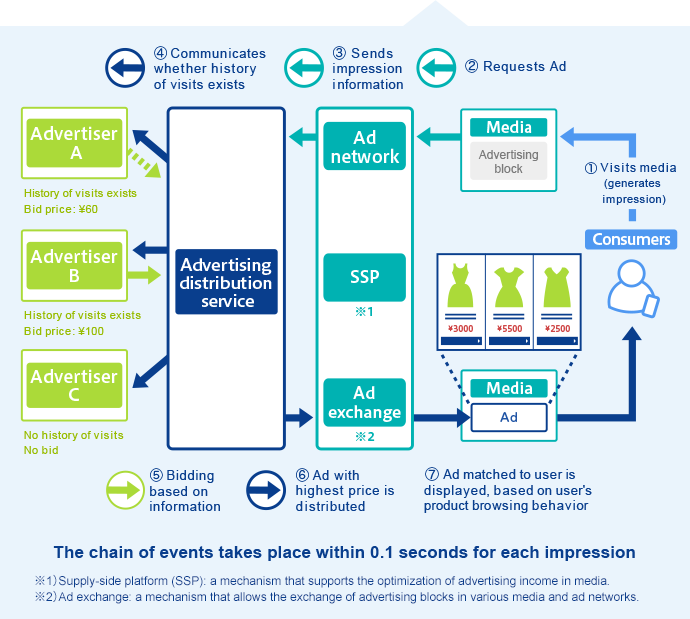 View larger image
"Behavioral targeting" refers to the distribution of advertising after measuring users' interests and concerns to narrow down targets. This is based on the behavior history (page views, ad clicks, etc.) of the advertising's target users. Re-targeting, a major behavioral targeting techniques, distributes ads only to users that have visited the advertiser's site.
The technique called dynamic re-targeting further adds the ability to automatically and dynamically generate ad creatives. With dynamic re-targeting advertising, each user can be shown ad banners for individual products that the user has browsed on the advertiser's site. By directly showing interested users those products and services for which they have a history of order, purchase, or consideration, the technique gives users reminders and reignites the desire to purchase, and thereby promises very high advertising effectiveness.
Our company offers dynamic re-targeting advertising through some of Japan's largest ad networks. These include the nend network, which the F@N Group operates, and nex8, which is able to perform targeting distribution through Japan's leading ad exchanges and SSPs.
Advantages for advertisers
High advertising effectiveness by limiting advertising distribution to users who already have high interest

The advertiser determines the bid price, enabling advertising distribution at reasonable cost

Allows viewing of impressions, CVR (conversion rate), and other data measuring effectiveness in reports
nex8(ja)
nex8 is a targeting ad platform that offers targeting distribution through some of Japan's largest ad networks, including the nend network operated by the F@N Group, and through Japan's leading ad exchanges and SSPs.

Based on its own proprietary system, nex8's dynamic re-targeting distribution is able to perform detailed tuning of distribution content matched to the user's behavior, such as whether the user viewed a product listing page and left, or browsed a page of detailed information but did not order or purchase products.

The content of the service is highly flexible with no initial or fixed costs, no requirements for minimum ad placement amounts, and no requirements for minimum number of products, making it accessible to advertisers of any scale.
nex8 official SNS accounts