Ad network
(CPC=Cost Per Click)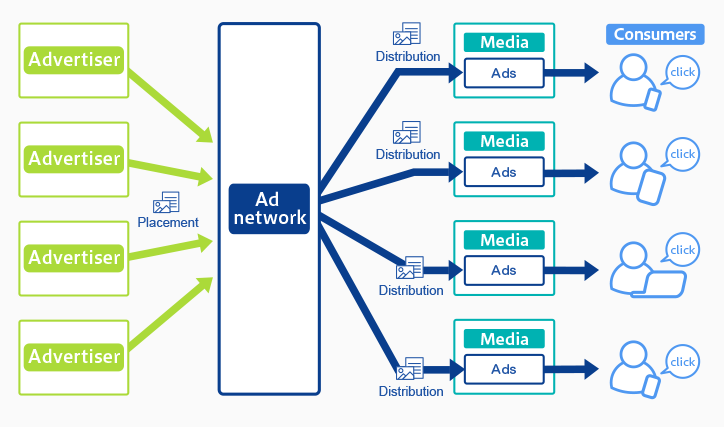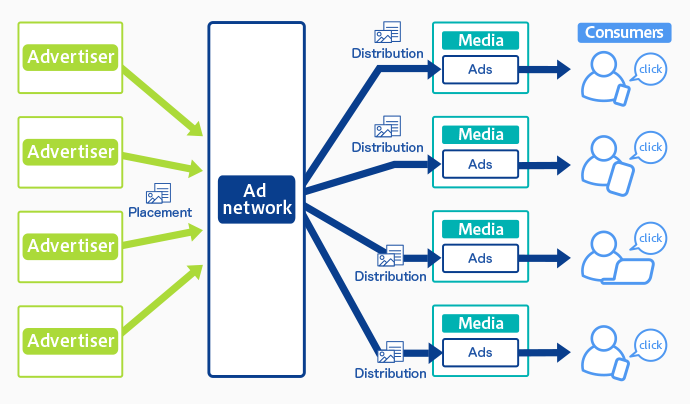 View larger image
"Ad network" refers to a mechanism for gathering multiple media into an advertising distribution network and distributing the advertising through many kinds of media (or refers to the network itself).
Bundling a large number of media makes it possible to secure large-scale traffic overall (i.e., distribution volume).
We operate the smartphone ad network nend, and, for web media and app media aimed at diverse networked mobile devices (Android devices, iPhone, iPad, etc.), distribute mainly CPC advertising in which compensation is paid for referrals to advertisers (i.e., clicks on advertisements).
Advantages for advertisers
Allows distribution of ads in many affiliated media simply by placing an ad (i.e., bidding) in an ad network

Allows distribution of advertising with genre, category and placement media specified in advance

Allows viewing of impressions, CVR (conversion rate), and other data measuring effectiveness in reports
Advantages for media
Allows displaying of ads to earn money without performing sales

Allows automatic distribution of a variety of ads without ad management hassle, simply by pasting an ad tag or embedding an SDK

Allows placement of multiple advertisements within a single ad block, making effective use of frames
nend
Aimed at smartphones and tablets, nend is one of Japan's largest ad networks.

It offers unique features that optimize bidding for each distribution outlet, achieving high advertising effectiveness and maximization of volume. In addition to general banner advertising, nend offers in-feed advertising that makes use of features that enable the matching of ad placement to media.

Users can easily place ads with no initial or monthly costs.
nend official SNS accounts