Smartphone Ad Network "nend" is the first Japanese company to be selected in TUNE's Top 25 Advertising Partners
Tokyo (October 11, 2016)- F@N Communications, Inc.'s (2461: Tokyo Stock Exchange) smartphone ad network "nend" (http://nend.net/en) has been selected into TUNE's (https://tune.com) (Seattle, Washington, Peter Hamilton, CEO) 2016 Top 25 Advertising Partners list. The selection is based off of advertising partners that are integrated with TUNE® Marketing Console (TMC) . This marks the first time that a Japanese company has ever been selected for this award.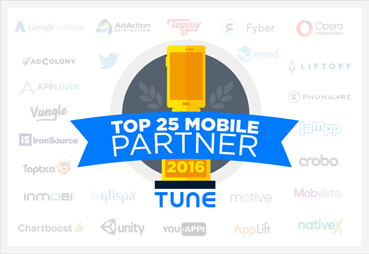 The Top 25 Global Advertising Partners list was started in 2014 and selected directly by TUNE. With over 400 advertising partners, this is determined by analyzing 8 key performing measurements in the TMC, such as the number of app installs.
Here are some other significant results from the Top 25 Global Advertising Partners list.
1. A Japanese advertising partner selected for the first time
– Japanese smartphone ad network "nend" is ranked #24, which marks the first time a Japanese company has been selected since it started in 2014.
2. Many global companies are also included in the list
– Along with the U.S., partners from Japan, England, Israel, India and Germany have also been selected.
You can check the entire 2016 Global Advertising Partners results here: https://www.tune.com/blog/top-25-global-advertising-partners-2016/
nend will continue its efforts to provide the best performance for advertisers and highest paying revenue for publishers, along with improving its service and aim to increase its market share globally.
※1)TUNE® Marketing Console (TMC) is your one-stop shop for gauging the success of your mobile marketing campaigns. Combining multiple best-in-class analytics tools like Attribution Analytics, App Store Analytics, In-App Marketing and TUNE® Marketing Intelligence, the TMC acts as the mission control for marketers managing an omni-channel strategy on mobile.
※2)8 key measurements are Adoption, Reputation, Tune Certified Partner Program, Clicks/taps, Revenue per Install: D30, Revenue per Install: D60 and Retention

■About nend
nend is a smartphone ad network that automatically provides the most suitable ad for users in mobile websites and apps. Publishers can use nend's javascript tag or SDK to start delivering ads.

■About TUNE
TUNE (http://www.tune.com) is a leading mobile marketing technology company that is driven by industry standard products like the TUNE Marketing Console (TMC).
TMC is used by many app developers– the only unified mobile marketing console to bring paid, organic, and owned marketing performance into one easy-to-manage, customizable dashboard. Marketers can simultaneously attribute user acquisition, engagement, and retention while generating deep insight into the organic ways users discover apps.
Headquartered in Seattle, Washington with more than 350 employees in nine offices worldwide, TUNE entered the Japanese market in 2013 and opened its Tokyo office in January of 2016. TUNE is the most widely adopted solution to measure mobile marketing performance and is trusted by brands such as Expedia, Sephora, Electronic Arts, Subway, The New York Times and more.

————————————————————
About F@N Communications, Inc.
F@N Communications, Inc. is one of the largest online advertising network groups in Japan, including A8 8(affiliate ad network), moba8 (mobile affiliate ad network) and nend (mobile ad network).